BF BALL SCREW SUPPORT UNIT 1
Key Features
1.In large stock
2.Prompt delivery
3.High quality and long life use
4.Sample order is available
5.Reasonable price
Specification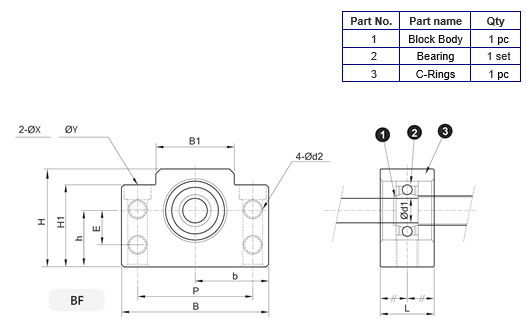 Unit:mm
Model No.

d1

L

B

H

b

h

B1

H1

E

P

d2

X

Y

Z

Bearing

C-ring

0.02

0.02

BF10

8

20

60

39

30

22

34

33

15

46

5.50

6.60

10.80

5.00

608ZZ

S 08

BF12

10

20

60

43

30

25

34

33

18

46

5.50

6.60

10.80

1.50

6000ZZ

S 10

BF15

15

20

70

48

35

28

40

38

18

54

5.50

6.60

11.00

6.50

6002ZZ

S 15

BF17

17

23

86

64

43

39

50

55

28

68

6.60

9.00

14.00

8.50

6203ZZ

S 17

BF20

20

26

88

60

44

34

52

50

22

70

6.60

9.00

14.00

8.50

6004ZZ

S 20

BF25

25

30

106

80

53

48

64

70

33

85

9.00

11.00

17.50

11.00

6205ZZ

S 25

BF30

30

32

128

89

64

51

76

78

33

102

11.00

14.00

20.00

13.00

6206ZZ

S 30

BF35

35

32

140

96

70

52

88

79

35

114

11.00

14.00

20.00

13.00

6207ZZ

S 35

BF40

40

37

160

110

80

60

100

90

37

130

14.00

18.00

26.00

17.50

6208ZZ

S 40
BF BALL SCREW SUPPORT UNIT 2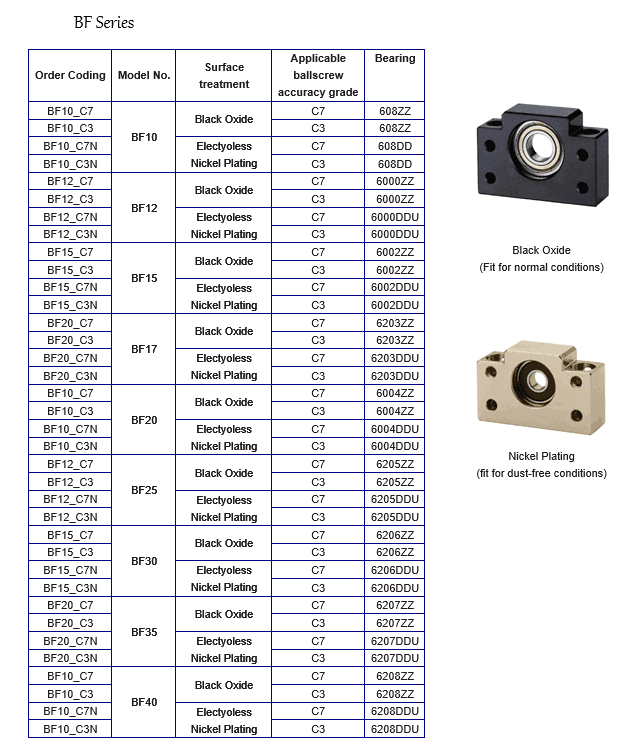 About Ball Screw Support Unit
The ball screw support unit is a bearing connected ball screw and motor ,its structure and specialty for standard ball spiral its axis of the inventory the finished product,preparation of the standardization of the support unit EK,EF type,to general ball spiral poles prepared the standard support unit BK, BF type.
Related Products
1.BALL SCREW:
SFU SERIES,SFE SERIES,M-ISNF SERIES,M-ISNA SERIES,M-CSNF SERIES BALL SCREW
2.STAINLESS STEEL,SUS303, SUS304,OR GCR15 BALL SCREW, LEAD SCREW
3.SUPPORT UNIT OF BALL SCREW, AKD SUPPORT UNIT
4.LINEAR GUIDEWAY
5.FLEXIBLE COUPLING
Why choose us ?
1. Screwtech designs, manufactures, supplies a complete selection of inch and metric linear mechanical parts and systems to the Linear Motion and Power Transmission Industries.
2. Professional manufacturer
We have the professional production team, high precision production equipments ,focused on precision transmission parts for more than 10years and have our own brand name WKT .
3. Quality control
1).We have QC department to control quality for each step.
2).We also have Automatic product equipments(German Chiron FZ15W ,DMG MORI MAX3000 Machining Centers ) which can cantrol the precision itself
3).ISO9001:2008
4. Competitive Price
Screw Technology is a manufactory which can export directly to customer, so there is no intermediary cost involved. We provide our foreign customer lower price than the domestic market. Since we can get tax refund from the government.
5. Quickly Delivery
We are big manufacturer ,have large amount of stock, we can delivery customer's order just-in-time for small order, 7-15 days for big order.
6. Best After-Sale Service
Screw Technology supply the after-sale service and technical assistance as per customer's requirement and needs. Customers are always given quick support.